A decade ago while living in Colorado I decided to build my first rod. With little information other than what I could find in Wayne Cattanach's book "Handcrafting Bamboo Fly Rods", I set out on what would become much more than just a hobby. My first rod took me months to build as I was constantly acquiring the tooling necessary, the next was somewhat quicker. When I was done I soon realized that this would not be a passing fancy, but rather a passion that would drive me to pursue excellence in each subsequent rod that I made.
Making the split cane rod is more than a hobby to the true rodmaker. In order to produce a rod that meets the angler's expectations I spend the time necessary to ensure that each rod meets my exceedingly high standards for both performance and cosmetic excellence. Finding the taper that suits the need of the angler is only half the challenge in building each rod, the other half comes from producing a rod that is also a work of art.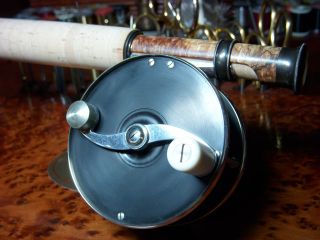 Each rod takes a minimum of 60 hours of diligent work and precise attention to detail. The bamboo strips for my rods are split, straightened, heat treated, and hand planed. Once the blank is finished the ferrules are installed and a custom cork grip is turned by hand. The rod is then wrapped, and unlike rods made by many other makers, all rods have finely tipped wraps done with the finest silk available. The finishing process then begins and takes several weeks to complete. Once finished each rod has the correct balance of power, action, and beauty.
My tapers are my own, although on occasion they are influenced by some of the great makers of the past. Dickerson, Payne, and Young all made lasting contributions to the art of rodmaking, and their influence lives on in the rods that leave my bench.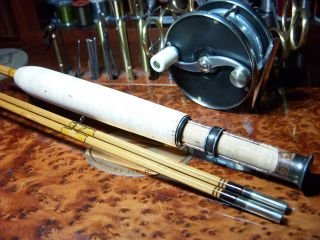 The taper is the most important element in determining the action and performance of any rod. Based on the angler's intended use, a taper that suits the purpose and the angler's casting style will be selected. Matching the angler to the correct rod is as important as having the skill to build the rod. A rod carefully matched to the user will be enjoyed for years to come.

Every rod is built and finished to the very highest standards using only the finest components available. If your passion is to fish with a rod that combines the nostalgia of times past with the performance and beauty of today's best rods, please contact me to discuss your needs.