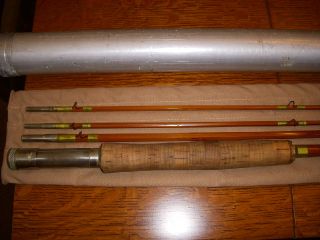 Maker: Wright & McGill

Model: Granger Special 9053
Length: 9'
Sections: 3/2

Granger Nickel Silver Uplocking Reel Seat
Marked "Wright & McGill" "Granger Special"
Granger Green Wraps
All Original Hardware
All Sections Full Length
Original tube and bag
Overall an outstanding rod in excellent original condition. Varnish, ferrules, and wraps are all original and untouched. Ferrules are 19/64 and 13/64, indicating that this is a model 9053. Original tube no longer has a label. Slight rub to winding check wrap. 3 day inspection.

$405 + shipping SOLD

International buyers please contact me for purchase information.